General Dentistry San Francisco
From left to right: Donna, Liz, Julia, Dr. Hack, Kelle, Tenedra, Janey.
General dentistry from an innovative San Francisco dentist.
I'm proud to be a San Francisco Bay Area native. I graduated from the University of Pennsylvania's School of Dentistry, then returned home to practice. I've been providing quality dental care in San Francisco's Financial District since 1972.
Combining extensive experience in general dentistry and cosmetic dentistry with a passion for artistry, I use the most current, gentle dentistry techniques. My staff and I consult with you about common oral health problems, listen to all of your needs, answer all of your concerns, and discuss various treatment options by focusing on the optimal health of your teeth and gums.
These treatments include: examinations (including regular oral cancer exams), cleanings, X-rays (digital, therefore less radiation exposure), gum treatments, TMD therapy, root canals, cosmetic dentistry (porcelain veneers, bonding, crowns, white fillings), dentures (full and partial), implants, and other areas.
In addition, if you're thinking of making your smile more beautiful, visit our cosmetic dentistry page.
Related General Dentistry Articles
The Natural Beauty of Tooth Colored Fillings
The public's demand for aesthetic tooth colored (metal free) restorations (fillings) together with the dental profession's desire to preserve as much natural tooth structure as possible, has led to the development of special "adhesive" tooth colored restorations... Read Article
What is Tooth Decay? – And How to Prevent It!
Tooth Decay is an infection, and many people don't realize that it is preventable. This article is the first in a series about tooth decay, perhaps the number one reason children and adults lose teeth during their lifetime. Explore the causes of tooth decay, its prevention and the relationship to bacteria, sugars and acids... Read Article
Tooth Decay – How To Assess Your Risk
Don't wait for cavities to occur and then have them fixed — stop them before they start. Modern dentistry is moving towards an approach to managing tooth decay that is evidence-based — on years of accumulated, systematic, and valid scientific research. This article discusses what you need to know to assess your risk and change the conditions that lead to decay... Read Article
<!- - END TOOTH DECAY -->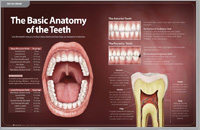 Basic Anatomy of Teeth
Adults have 32 teeth. This includes the wisdom teeth which are simply a third set of molars. It is possible to be born with less than 32 teeth or more than 32 teeth. If a person has had all four of their wisdom teeth removed, they will have 28 teeth...Read Article