Cosmetic
Bonding is a common cosmetic procedure due to its relatively low cost and ease of application. It is often used to reshape or change the color of a tooth and fill in slight spaces between teeth. The composite material used in bonding can be shaped and polished to match all surrounding teeth.
One of the most requested procedures asked of a dental office is tooth whitening. This is a procedure that will assist in removing stains and discoloration from teeth while lightening them.

Tooth whitening can only be completed once cavities are treated in order to prevent the whitening solution from reaching the inner tooth and causing sensitivity. Also keep in mind that tooth whitening is unable to lighten exposed tooth roots, and tooth replacements such as crowns and veneers.
Whitening your teeth at home often involves using a custom fitted mouth guard into which a whitening solution is placed. These custom fitted mouth guards will help protect your gums from irritation that occurs while using ill-fitted over-the-counter whitening mouth pieces. After the solution is placed in the mouth guard, it is placed over the teeth and left on for a few hours or overnight depending on the type of whitening solution. Ask Dr. Hahn if home whitening is right for you.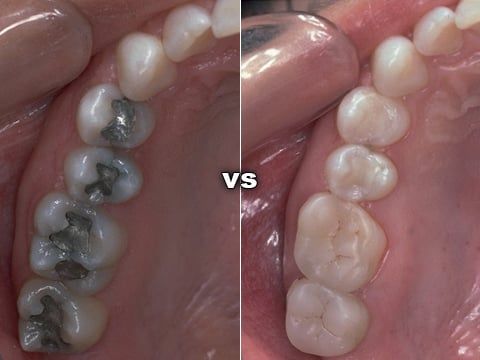 In order to make a filling appear almost invisible to the naked eye, composite fillings are often used. These fillings are designed to match your natural tooth color and are bonded to your teeth, which makes them less likely to fall out. These fillings are used to replace older fillings made of silver or gold. Tooth colored fillings have a more aesthetic appearance, can be completed in one visit, have no chance of forming a "leak" and are less likely to crack a tooth.
Dr. Hahn is a cosmetic dentist in San Francisco.
A veneer procedure is a popular cosmetic procedure. Veneers may be recommended in conjunction with other cosmetic procedures to produce optimal results.
Veneers are a thin, semi-transparent tooth shaped "shell" that are custom made of porcelain. They are permanently bonded to your natural teeth which are located in your "smile zone" to enhance their shape, color, length or size.
Veneers can fix gaps between teeth and/or improve the appearance of teeth that are discolored, misshapen or misaligned.
Procedure:
1) The teeth are cleaned and any old surface restorations are removed.
2) An impression is taken of the prepped tooth and sent to a lab where a veneer is fabricated.
3) The veneer is applied with bonding resin and curing light.
4) After the veneer is set, it is shaped and polished to look like a natural tooth.