San Francisco Cosmetic Dentist
From left to right: Donna, Liz, Julia, Dr. Hack, Kelle, Tenedra, Janey.
Cosmetic Dentistry Video Library
A premier cosmetic dentist in San Francisco.
I love dentistry. It's part science, part art. When I do cosmetic dentistry –– handcrafting porcelain veneers, crowns and bridges –– I think of it like sculpture to give you a smile that you'll want to show the world.
I've earned an industry reputation as an early pioneer in San Francisco cosmetic dentistry. In fact, I've been doing porcelain veneers since their invention nearly 30 years ago and I was only the second dentist in San Francisco to perform them. My cosmetic dentistry work has been featured on the cover of the Journal of the California Dental Association in 1998, something that had never happened before nor since. I also take continuing education classes several times a year to stay on top of the latest cosmetic dentistry techniques and equipment.
If you're interested in cosmetic dental work, we begin by establishing the health and teeth of your gums. Then, we explore your treatment options to give you a healthier, more youthful appearance. These options include: whiter, younger looking teeth; fixing crooked teeth; mending or replacing cracked teeth; closing gaps; treating gummy smiles; as well as creating crowns/onlays, bonding, and bridges.
We offer a full array of cosmetic dental procedures and treatments in our San Francisco-based office. My office staff and I are happy to discuss which might best serve your particular needs.
Related Cosmetic Dentistry Articles
Cosmetic Dentistry – A Time For Change Join us as we review the myriad of possibilities available to you for cosmetic dental change. But the biggest part is not just how your smile looks, it's how you feel when you show it… Read Article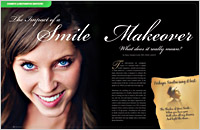 The Impact of a Smile Makeover Americans are catching on to the emotional and social importance of a healthy, beautiful smile, and they're seeking out ways to improve their smiles. Learn why and what a change could mean for you… Read Article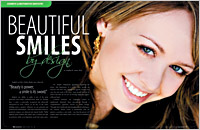 Beautiful Smiles by Design The first in a series of articles dedicated to the "art and science" of designing a more appealing smile. One of the country's foremost leaders in cosmetic dentistry discusses how you and your dentist partner to create a great new look… Read Article
How And Why Teeth Wear Are teeth supposed to last for a lifetime? And are humans designed to live for up to a hundred years? Given all the current improvements in the areas of medicine and health, both general and oral, people are not only living longer, but they are also keeping their teeth longer. This article will provide an overview of the "oral system" and one of its more common and important occurrences, tooth wear… Read Article